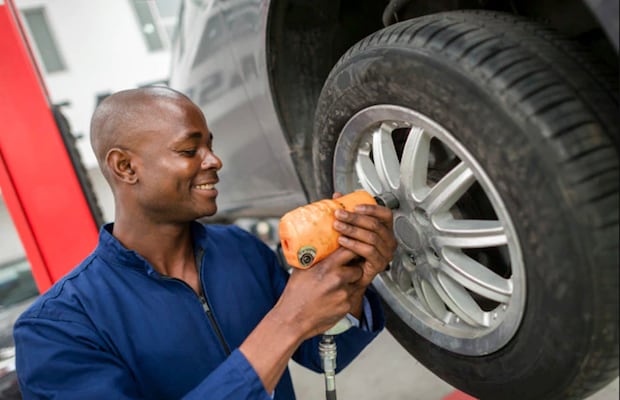 Get the best Ford service and auto repairs in Elgin, IL, close to South Elgin, Dundee, and Streamwood, by bringing your vehicle to Hopkins Ford of Elgin! Our state-of-the-art Service Center is staffed with factory-trained, certified technicians who have decades of combined experience in keeping all types of vehicles running in peak condition by performing routine maintenance, mechanical repairs, and auto body repairs.
The easiest way to avoid mechanical problems in your vehicle is to keep up with routine maintenance tasks. The Service Center at Hopkins Ford of Elgin is equipped to take care of these services - like oil changes, tire rotations, fluid refills, inspections and much more. Many of these services can be completed in our Quick Lane so that you can be in and out in no time!
Nothing is more stressful than seeing a warning indicator light up on your dash, but you can have peace of mind when you bring your auto to our Service Center. Our technicians can quickly diagnose an issue and give you a competitive, honest quote on repairs. They'll get the job done right and right on time - from faulty belts and hoses to a transmission overhaul. 
Scheduling your service appointment is a breeze as well. Our online form lets you pick the day and time that works for you. Don't forget to check out our service coupons to save money in our Service Center. If you need to talk with a Service Advisor, feel free to give us a call at (877) 962-2311 or contact us online.
Routine Maintenance
If you want to be sure your Ford car, truck, or SUV stays on the road for as long as possible, then you'll need to have it maintained by our factory-certified service professionals at Hopkins Ford. Oil changes, tire rotation, brake repairs and more are all part of the routine maintenance you will need performed on your Ford. These preventative repairs occur at various intervals, so be sure to check your owner's manual to ensure you're up-to-date with your maintenance schedule.
Do You Need to Make a Service Appointment?
Are you ready to make an appointment with the highly-trained service specialists at Hopkins Ford? Schedule a service at our auto service shop in Elgin, IL by calling us at (877) 962-2311 or by using our convenient online form. We look forward to taking care of you Ford car, crossover, or SUV for years to come!